How To - Megane1 2001 1.6 16v air filter replacement
---
Well the air filter for my brothers megane finally arrived today. £9 delivered from
ebay
for a genuine Renault filter.
Details of his car: Megane1 2001(51) 1.6 16v K4M.
The only tool you will need to do this job is a T25 screwdriver. Oh an maybe a chicken cup a soup as its cold out there at this time of year.
Ok so the first thing to do is identify the air filter housing. From the picture you can see a large plastic box with a white label on it, I presume this is just to quieten the sound of the air being taken in. this needs to be removed to get at the filter housing. Its secured by a little rubber clip at the front, but its fallen off in this case.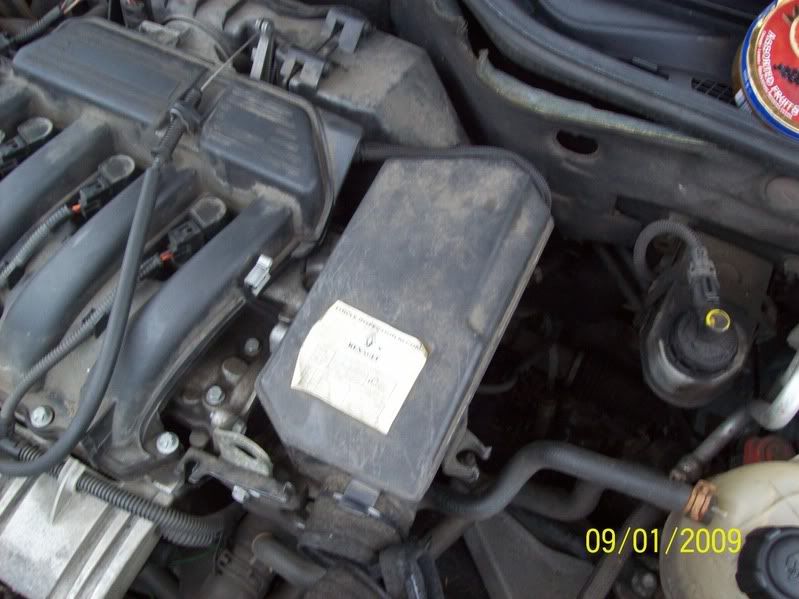 Once its removed you can clearly see the filter housing.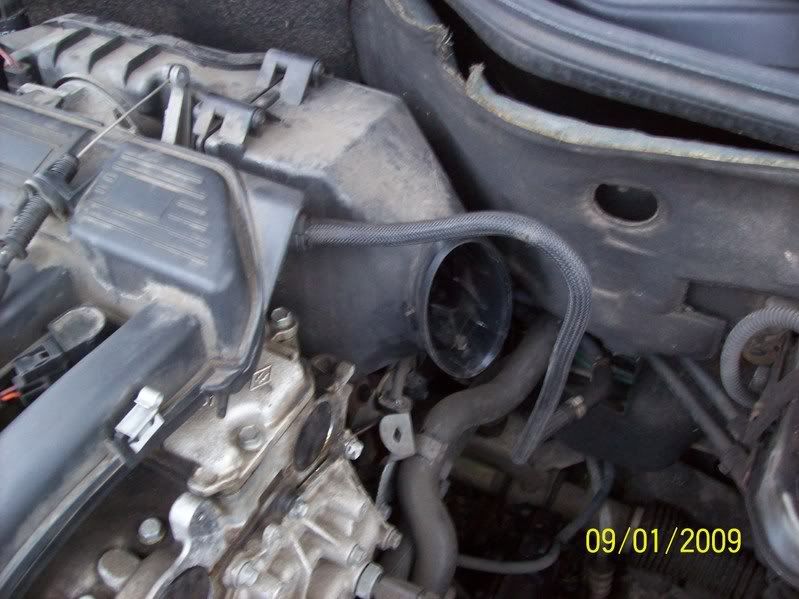 The filter housing is held in place by 2x T25 torx screws.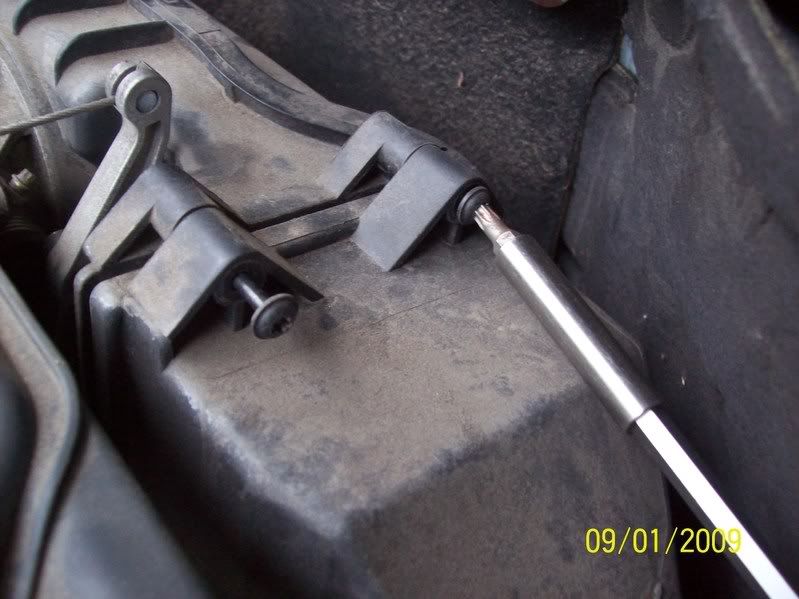 Once these are removed the filter housing will seperate from the engine with a little wiggling about.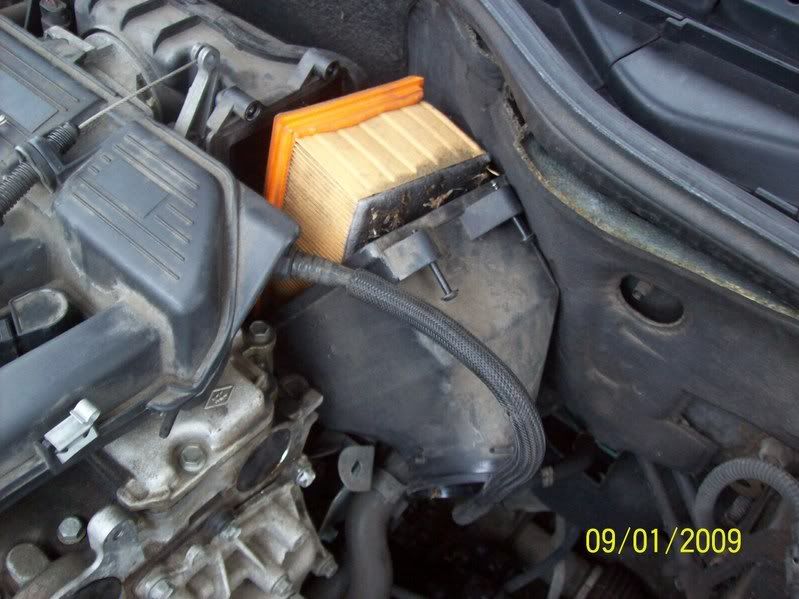 The housing is quite hard to remove from its location because of the size of it, a little bit of fiddling and its out.
As you can see in the next pic, the filter was very dirty on my brothers car compared with a nice new one.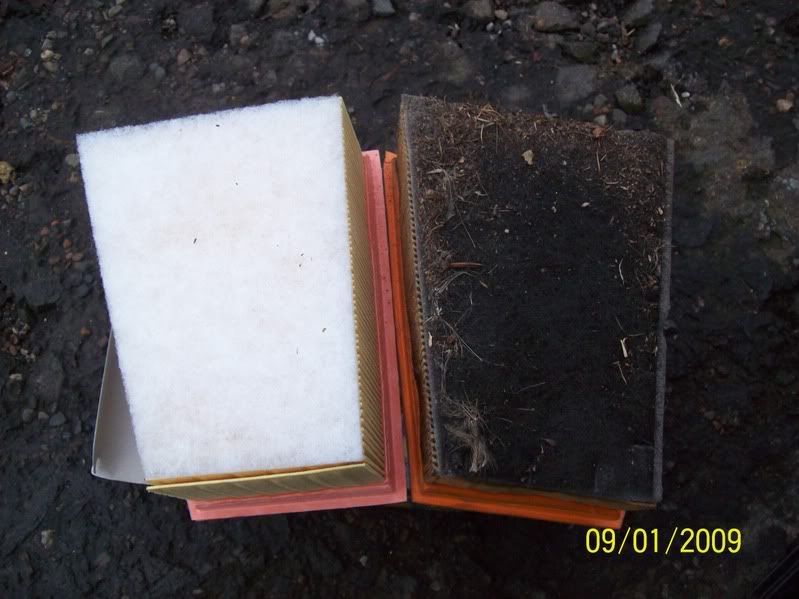 there is nothing difficult about replacing the new filter and the housing, just a simple reverse of what has been done so far.
On the black box that fits onto the housing, there is a rubber seal around the end of it, this can be a little tricky to fit back on.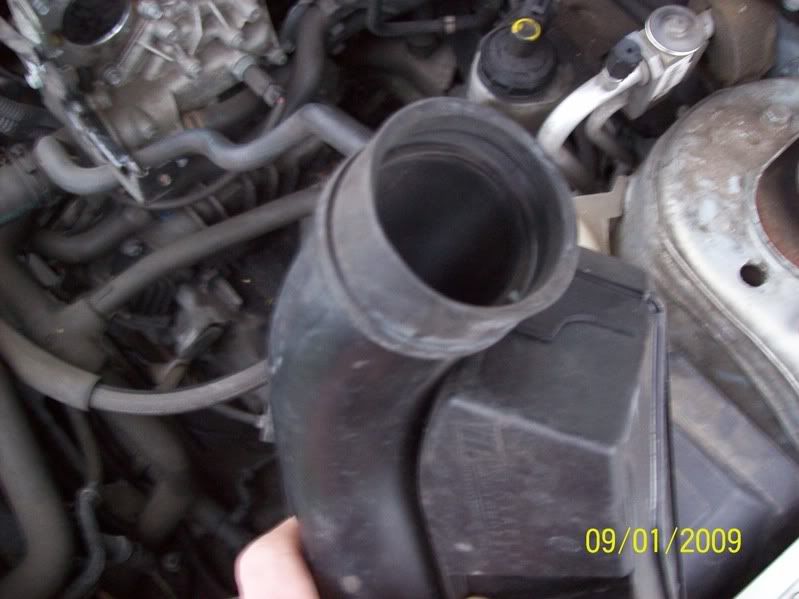 As the air intake pipe on my brothers car was no longer in one piece i used some 'duct' or 'duck' as some may call it to fix it.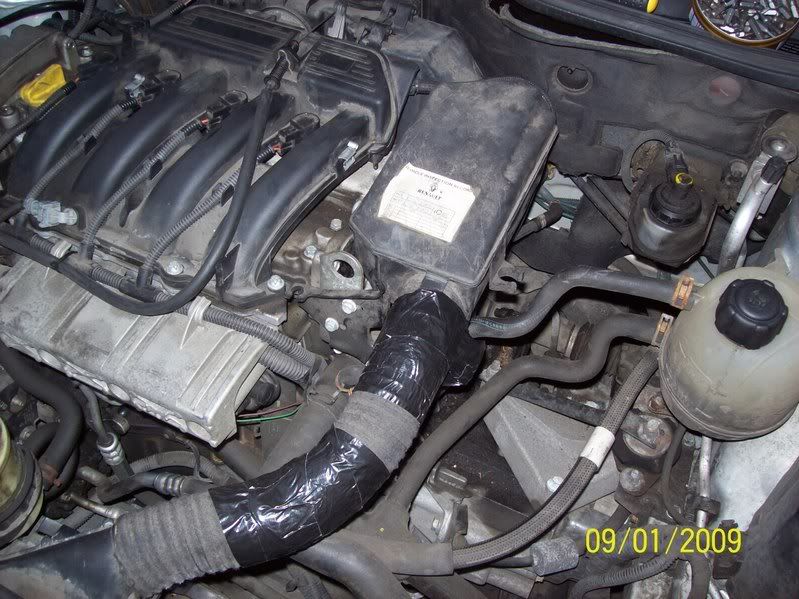 This is a very simple job to do, takes around 15mins to complete. Almost seems silly to make a post on it but I hope its useful to someone on the forum.
stef
Currently in stef123's garage:
2006 Ford Mondeo ST TDCI
---
Last edited by stef123; 9th January 2009 at

04:22 PM

.
This is a fantastic post. I'll move it into our articles section. We've not got a Megane FAQ yet, but when we do this would definitely need to be included!
Technical Supremo
Boney Award winner
&nbsp
Join Date: Feb 2007
Posts: 43,087
Nominated 18 Times in 69 Posts
TOTW/F/M Award(s): 28
Thanks: 377
Thanked 5,239 Times in 4,738 Posts
Excellent post Stef especially for beginners. Good clear pics as well.
Looking at the pics a new bit of flexi inatke pipe wouldn't go amiss. It would do no harm to clean up the master cylinder and its cap just in case the breather hole gets blocked.
I expect he should be able to get better mpg as well.
Well done
Currently in madnoel10's garage:
Ford C-max 1.6 Style
Platinum member
Threadstarter
first of all thanks for the positive feedback guys, also thank you for nominating me for TOTW.
madnoel, I will try and source a new intake pipe but the old one will need to do for the tim being im afraid. I've done what I can for now. Next time I get the chance I will give the master cylinder and its cap a clean, thanks for bringing that point up.
Just got to get a fuel filter and an
oil
filter/
oil
to complete the service.
Currently in stef123's garage:
2006 Ford Mondeo ST TDCI
Tourerman
Join Date: Sep 2005
Posts: 4,838
Nominated 0 Times in 2 Posts
TOTW/F/M Award(s): 3
Thanks: 0
Thanked 145 Times in 126 Posts
This post is better than you think stef as it would cover the Laguna 11 as well, your pictures and descriptions are more or less exactly the same as for my Lag 11.

The large plastic box is the "air box" this is designed very carefully to iron out the intake pulses from the engine so the air flows freely more than to suppress noise.

So you get another nomination from me.
---
A problem well stated is a problem half solved !

Currently in davesss's garage:
2002 Laguna Sports Tourer 1.8 Dynamique Moondust VF1KGOB, Fiat Siecento Micheal Schumaker, Kawasaki KLE M/Cycle and a cheap Mountain Bike.
Posting Rules

You may not post new threads

You may post replies

You may not post attachments

You may not edit your posts

---

HTML code is Off

---