Laguna II tailgate badge choice
---
Right after some scrote did this..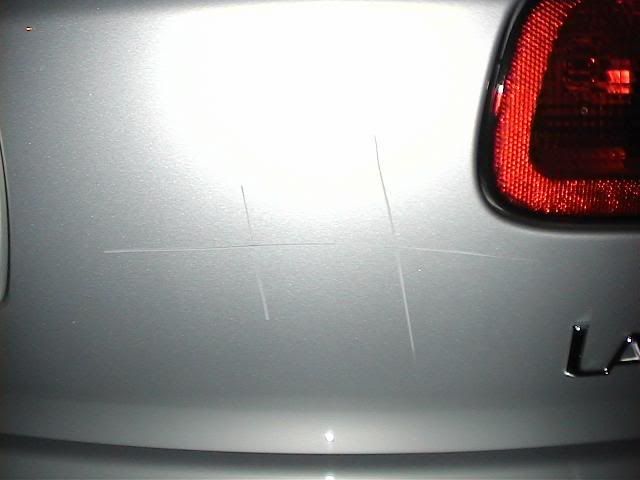 I'm now left with this after I resprayed it today..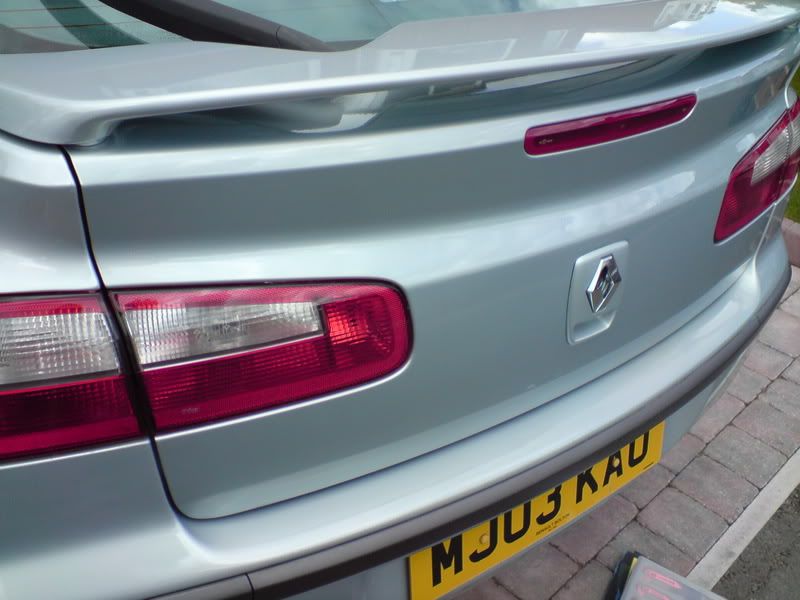 Question is...
Do I leave it like it is now (debadged)
Or put an original badge back on...
Or go for facelift badging..
Currently in Andy M's garage:
2003 Renault Laguna II 1.9 dCi Dynamique with upgrades!
Platinum member
Join Date: Apr 2008
Posts: 2,447
Nominated 0 Times in 0 Posts
TOTW/F/M Award(s): 2
Thanks: 0
Thanked 14 Times in 9 Posts
Good job on the repair! Personally I would go for original badges, otherwise it looks like it has had a rear end shunt and the repairer didn't put the right badges back on.
---
Why do today what you can put off until tomorrow...
Wanna see what I drive? No pics of the latest Passat, but you can see the
Scenic II here
and the
CB1000R here
!
Previous
Passat here
and
Bandit here
.
Currently in martin999's garage:
2011 (11) VW Passat 2.0 TDi SE + options in Island Grey, 2011 (11) Honda CB1000R in Pearl Cool White... oh and a 2004 (54) Secnic II 1.5dCi Dynamique in Ottoman Blue !
Platinum member
I'd leave em off!
Currently in Tiggerz_SRi's garage:
Audi a4 v6 avant, used to have bmw 525d se estate, 2001 Toyota Previa 2.4 VVTi GLS, '98 R FORD Galaxy 2.3 Ghia X a Espace III 2.2dT RXE and a Lag I 1.8RT!
Veteran Member
Technical Supremo
Boney Award winner
&nbsp
Join Date: Dec 2005
Posts: 40,429
Nominated 2 Times in 20 Posts
TOTW/F/M Award(s): 18
Thanks: 149
Thanked 1,103 Times in 942 Posts
Personally,I'd leave them off for now but still buy a new (original) badge.
Without the badge the tailgate will be easier to clean and in my opinion looks better.If you decide to sell the car you can then put the new badge on it and it will stop eagle eyed buyers worrying about whether the car has been accident damaged on the rear.
---
I'd rather push my Alfa than drive a BMW....

Currently in Lagdti's garage:
2004 Saab 9-5 HOT Aero and a 2001 Audi A3 1.8 Turbo
---
Last edited by Lagdti; 10th August 2008 at

08:21 PM

.
Member
Join Date: Mar 2008
Posts: 33
Nominated 0 Times in 0 Posts
TOTW/F/M Award(s): 0
Thanks: 1
Thanked 0 Times in 0 Posts
I agree
Looks better without the badge that's why I had mine removed.
I would buy a new one though and keep it for when you sell the car.
Currently in L46UNA's garage:
2004 Renault Laguna II 2.0T