Discussion Starter
·
#1
·
I didn't see anywhere obvious to start a discussion about projects and maintenance. Hopefully this area of the forum is ok...
My story in brief:
In January 2009 we bought, from a Renault dealer, a used 2005/55 Grand Scenic 1.6 Dynamique. The car is now just over 5.5 years old with 75k on the clock.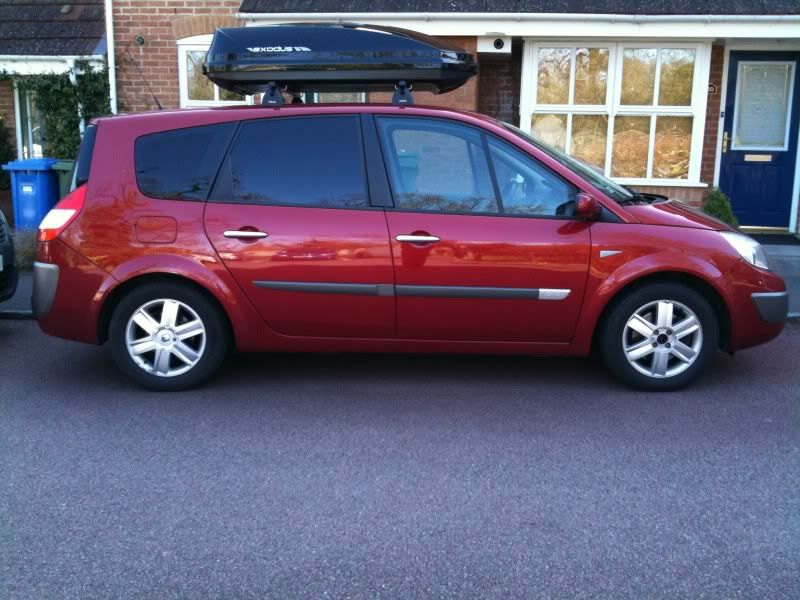 Just a few months ago we started having issues with the handbrake, at first working intermittently then not at all. So I took it to my trusted French car specialist
frontlines
who diagnosed it as requiring the motor for the handbrake but he didn't have Renault clip so he felt a dealer or specialist with the right stuff to programme the ECU would be better.
Spoke to my local dealer Gordon Lamb who wanted near on £100 to diagnose which was non negotiable. Fortunately I have a warranty from warranty direct - but the first blow was when I established that the warranty company would only pay £60 an hour.
Disgruntled I went to a specialist in Ilkeston, this is massively inconvenient but a more reasonable £35 or something. Anyway it turns out the problem was warn rear brakes so he cleared the faults and the handbrake started to work. He did advise the car needed a temp sensor too. So I booked the car in at Frontlines had discs and pads and 4 coil packs as it broke during all the messing about. Several hundred pounds lighter and the handbrake lasted a week with new brakes before giving up the ghost.
So I called Evans Halshaw in Sheffield, booked the car in and initially I had a great experience. Attentive service staff, FOC diagnostics, they contacted the warranty company and they were prepared to do a deal on the hourly rate.
I walked out the door which is when the 'service' stopped. 2 weeks on, I had heard nothing so I called and TBH without going into things, I got a load of bull****. But they did confirm the my warranty company
WILL NOT PAY FOR THE REPAIR OF THE HANDBRAKE
. This was a bitter blow - the dealer said they will do me a deal £700 INC.
As a gesture they called Renault UK, I was on the phone for 21 minutes with a chap who actually sounded surprised at the fault and said Renault pride themselves on the quality of their cars! Anyway, "based on the age of the car and the non dealer servicing we will not be offering any financial support, however we recommend you use our dealer network..." :rofl:
Needless to say I am pretty annoyed all round - but I have had a brain wave that I ran past people on another thread, but no takers. Given the amount of people that suffer these problems with clearly faulty or ill-designed parts there has to be a permanent, affordable solution. I am looking into fitting a genuine handbrake lever and perhaps all components as fitted in the authentique model. This way the fitment will look neat and be a bonus when selling the car on. This will guarantee you not to have handbrake problems at MOT stage, but I am unsure about the electronics side. I was going to use this thread to update any progress and of course I am open to anything people want to add. With a £700 bill looming I think I can easily convert for half or preferably less....