I would say the injectors need coding, but as we all know some ECU designs and even firmware versions can get their panties soiled for seemingly no reason especially when ignorant dealers screw the pooch initially .................
I do not know of any way to see if injector codes are being used in a specific ECU or firmware version - not in CLIP or Autel anyway.
See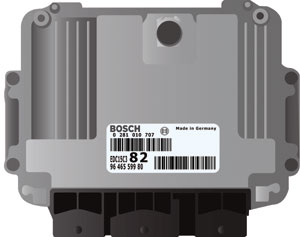 This article deals with a typical fault that occurs with Bosch EDC16 control modules in Renault models with 1.9dCi and 2.0dCi engines, which have coded injectors. When establishing connection with th

pmmonline.co.uk
This crowd reports the same situation (different scanner though)........................ and because I have only last week replaced a complete set of injectors on an Audi using the AP200, I do know their suggested solution to try that may work, is to use the built-in feature of coding ALL injectors together rather than individually (i know it was present on the Audi I used it).
The mere fact the ECU, after replacement, got handed over with no VIN would have made me reject the thing outright - IMO its a sure indication it has never been properly configured.
ive got 3 faults in this van 2 for egr valve which has been replaced before van came to me and 1 for injector coding. i go to special function injector programming and all saved codings are all AAAAAAA for the 4 of them. tried launch, snap on and bosch kts. all the same. ive removed ecu and bdm...